Five reasons why you should buy a Louis De Poortere rug!
I'm very confident in saying that during your mission to find the next rug to complete your interior design overhaul you've come across the manufacturer name, Louis De Poortere - am I right? Well in this blog post we're going to be talking about the five main reasons you should consider purchasing one of their masterpieces instead of an alternative. 
1:) History
"... 160 years within the industry!"
Although Louis De Poortere himself established his textile company back in 1929, his history within the industry goes even further back to 1859 where the family business De Poortere Freres was first originally founded which was a cloth and textile manufacturer. It is here that Louis De Poortere gained the knowledge, expertise and techniques within the family business to continue this on through his own venture, which is where the company was formed in 1929. So to save you doing the maths, that's a total of 160 years within the industry!
2:) Quality
"... Every single rug they produce takes advantage of the manufacturing processes they've mastered over the years..."
Now with that amount of years under their belt you can be wholeheartedly reassured that within Louis De Poortere's manufacturing process, quality is at the forefront of everything. Every single rug they produce (which is over 18 different ranges, 90 different sizes and 84 different colour ways) takes advantage of the manufacturing processes they've mastered over the years, so you can be certain that when it arrives to you it's been through a series of vigorous quality control checks that meet their expectations. At RUGHAUS we have a direct account with Louis De Poortere Belgium. We don't use any middle-man distributor to source their rugs, they are purchased directly through their sales team and delivered straight to you.
3:) Designs
"... Each rug has it's own story to tell behind the design."
Louis De Poortere are not short of designs. Within their 2019 catalogue they feature over 18 different ranges, all of which have their own story to tell - which is my FAVOURITE thing about them. Their rugs aren't designed just fit with market trends of that time, they all have their own history and story behind the design. For example, the Mad Men Fahrenheit (see picture below) collection symbolises the freezing point in temperature and refers to the chilling winds of the New York fall and winter periods. The scratch marks across the rug evoke the lines left by the skaters on the Wollman ice rink. Pretty cool right? They even revive old archived designs and modernise them with distressed areas too. The Antiquarian Antique Bakhtiari range is one of those!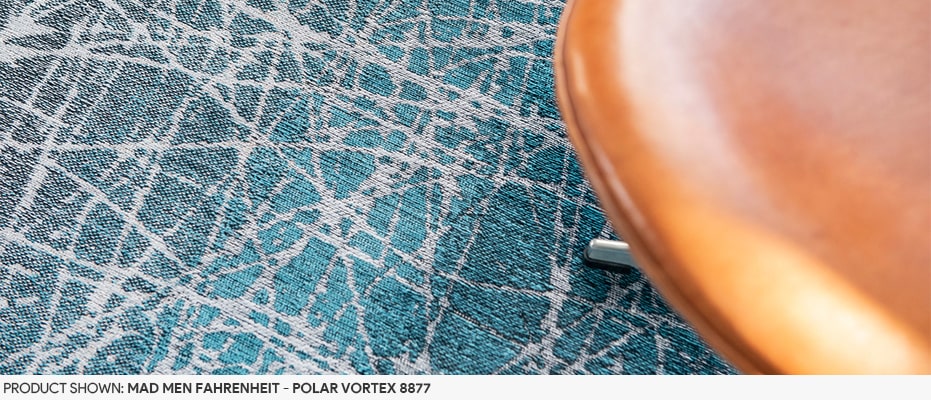 4:) Practicality
In this section we're going to talk about the sizes available and general upkeep. All rugs manufactured using a mechanical jacquard flatweave construction, so in short this is great for resisting any dirt getting stuck within the pile. Because the yarn is so tightly packed together this prevents even the smallest particles of dust and soiling getting into the rug. Regular hoovering across the whole of the rug will ensure the appearance remains to be as fabulous as the day you bought it. If perhaps in a worse case scenario if anything other than water is spilt onto the pile and begins to stain the rug Louis De Poortere recommending professional cleaning only. Across their collection you can find rugs as small as 80 x 150cm which can be great for around small coffee tables or dressing rooms all the way up to 290 x 390cm which would look wonderful in large bedrooms.
5:) Originality
"... De Poortere has stuck to their routes throughout the years and has retained the same manufacturing techniques whilst producing designs unlike any other in the market."
For me this is a big selling point for Louis De Poortere because as I mentioned above, it's easy for manufacturers in any industry of today to be suckered in to producing something just to please the masses or because it will might perhaps make more money, but De Poortere has stuck to their routes through the years and has retained the same techniques in manufacturing whilst producing designs and finishes unlike anyone else in the market. You may perhaps find an alternative rug from another supplier who may be trying to replicate the finish of one of theirs but it's certain that they won't achieve the same level of detail and quality if they were to be laid side by side. This is what makes Louis De Poortere fabulous in this market, they've spent years crafting the right tricks and details and it really does show in their 2019 rug collection. 
Now after all the indulgence I bet you're ready to start shopping right? Before wrapping up I thought I'd leave you with my top 5 recommended ranges to check out now: